Ireland is a great place to Road-trip across, as its popularity grows. Hiring a campervan for a romantic break for couples or family vacations is an excellent opportunity to enjoy the most of Ireland.
If you're planning a trip this year, this article should answer some of the most popular questions we hear about getting on the road. Exploring Ireland's unique countryside and experiencing rural communities will create memories that will last a lifetime.
Why should you hire a campervan in Ireland? To find out why, here are 3 great reasons for you.
Although Ireland is a small country, adventure awaits you at every turn. With a campervan, you can hit the open road on an epic scenic drive, find idyllic coves and hidden beaches along the shore, camp under starlit skies, and go island hopping off the coast. Now is the time to experience an unforgettable holiday in Ireland.
See More Breathtaking Locations – avoid wasted time on trains and buses. Stay engaged with your surroundings rather than switching off and letting the experience pass you by.
More Freedom – enjoy the places and experiences that your group likes the most. Allow yourselves to be spontaneous and enjoy the adventure.
Great Flexibility – journey along the routes that offer the best experience for the moment. Rest when tired or keep exploring when the opportunity arises.
See More, Quicker – Don't waste your valuable time on tours that skip by areas that interest you.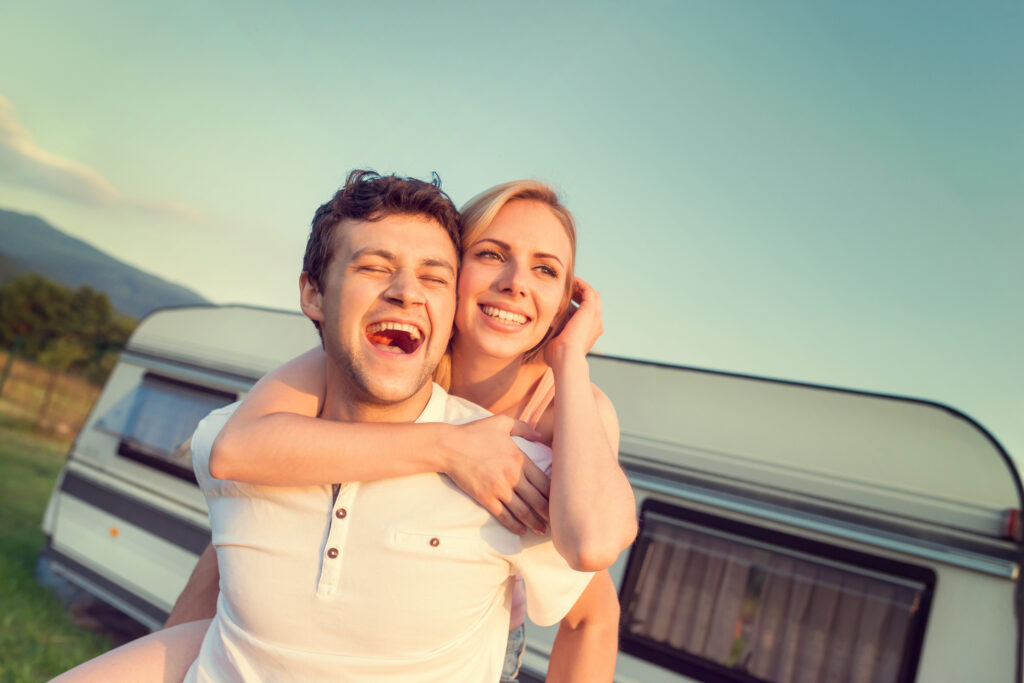 Driving A Campervan Or RV In Ireland: What You Need To Know
Before you head off in your campervan, there are a few things you should first know about driving in Ireland.
Driving is always on the left.
No turning right at a red light – this is for you American drivers
The roads can get very narrow, especially in the rural areas and cities. In some parts, you will be unable to get a large campervan or motorhome through. Aim to follow the main roads.
Don't overuse Google maps. Google maps are great and will be correct over 95% of the time. But it's important to note that Google maps might suggest you take your campervan down a rural road that is not suitable.
There are motorways between the main cities but often not in the tourist hotspots.
We drive in km/h in the South (Republic of Ireland) & mph in North of Ireland (United Kingdom)
Speed limits signs are posted throughout regularly on each road.
In rural areas, you may see animals on the road such as sheep, cows and deer.
Remember to always Drive Safely! – We have a video on tips for driving a campervan safely – common campervan driving mistakes.
Top Tips For Saving Money On Your Campervan Hire
To help save money on the cost of your trip, here are a few top tips for cutting back on expenses with your campervan.
Travel 'Out of Season' when hiring rates are considerably cheaper – typically in the Spring/Autumn, especially when you can make huge savings on both the cost of the van and any campsites. The peak season is typically June-August. – typically the Spring/Autumn, especially when you can make huge savings on both the cost of the van and any campsites. The peak season is typically June-August.
Travel with a Group – Sharing the costs with Family and Friends in a larger berth vehicle will reduce the overall costs per person. Bringing an additional tent may also cut down on the costs to cover additional sleeping space.
Reduce Eating Out – Make use of the great cooking facilities that are available with every campervan. Eating out with a group can be expensive if you are buying all your meals throughout the whole trip. Why not embrace the cooking experience with a BBQ. Spending wisely will reduce the costs of the whole trip.
Campsites For The Night using a campervan?
With camping becoming more popular, there are a growing number of campsites in Ireland that can accommodate any need! This article will explore the different types of campsites available and the best places to camp in Ireland.
Other useful websites include:
Is It Safe Driving A Campervan In Ireland?
Driving a campervan is a task that needs to be taken seriously. Road accidents occur throughout the world every day. Ireland is quite safe for travelling as a tourist. If the weather is wet, pay particular attention to winding roads and reduce speed where possible. Road users are typically patient when it comes to accommodating camper drivers. Campsites are usually safe, but take care where possible. Outside of the campers and campervan drivers, other road users need to be especially careful. The most common traffic violations are speeding and failure to give way. Other violations include pedestrians running across roads, driving too close to a vehicle in front, parking in a bike lane, and not yielding right-of-way.
What To Look Out For When Choosing A Campervan
Choosing a Campervan to travel around Ireland can be confusing for many people. In this section, we will briefly explain what you should look out for when choosing a campervan.
Before you decide what type of campervan you need, it's equally important to choose what campervan company you choose to rent from.
When making your decision of which company to go with, here are some important things to look for.
Solid reviews – Google Reviews and Facebook reviews are always a good starting point. As well as seeing what other bloggers have said about them by typing in "COMPANY NAME review".
Modern vehicles – To save money on fuel, and ensure you have a safe trip without breakdowns, it's best to find a company offering vehicles that are no more than a few years old. Campervans easily rack up tens of thousands of kilometres, even in their first year, and any decent firm will always be reinvesting in modern vehicles.
No added extras – Check the small print to see what is actually included in your rental. Things that typically aren't included in the initial quotation are bedding and any cooking equipment. Also, some firms might have limits on the number of kilometres you can drive, and then charge you extra for going over.
Affordable insurance cover – If you want real peace of mind when hiring a campervan in Ireland, you can pay a set amount for every day of the hire in order to reduce the excess in case of damages. We had the choice not to get this but felt a lot better having it. For larger campervans, it's often not possible to entirely remove the excess charge.
Breakdown cover – There's always a chance something will go wrong on your travels, and any decent hire company should offer full breakdown cover as standard with your hire.
Plan Your Next Epic Adventure In Ireland Today!
Craic n Campers is based in Roscommon. Their depot in Roscommon Town is in the heart of Ireland, the ideal starting point for any adventure!
Due to our central location, we benefit from national train and bus services. We are also within 90 minutes driving distance of the cities of Dublin, Galway, and Sligo. Sligo is considered the 'Gateway City' to the world-renowned Wild Atlantic Way which meanders for over 2500kms along some of the most breath-taking coastline in the world.
Our Roscommon location is a perfect location to launch your campervan trip. We would typically recommend many of the Wild Atlantic Way highlights and many of the local Roscommon attractions.
Are you planning your next adventure? Contact Craic N Campers and let us know how we can help you with your upcoming trip. We would love to hear from you.